PLEASE NOTE : 
From 1st January 2023 All Saints Church, Selworthy will be temporarily closed for Services and to visitors. This is due to some plasterwork needing remedial attention to the ceiling of the Church. In the meantime, all Sunday Services will now take place at Lynch Chapel, Bossington at 11am, until further notice.
Notification of completed works will be posted on this site in due course. We apologise for any inconvenience or disappointment caused during this short period.
All Saints' is a 15th century church located in the beautiful village of Selworthy which is nestled within Exmoor National Park. The Grade 1 English Heritage building is situated on the side of the hill, with breath taking views across the Porlock Vale countryside, facing towards the highest point on Exmoor, Dunkery Beacon. Despite the church being constructed in the 15th century, the plain tower was completed in the 14th century which is in the Early Perpendicular style.
Selworthy Church is the only one in the district that is still periodically coated with a mixture of lime and tallow which helps to protect it from the elements. Photographs taken a hundred years ago show most of the local churches similarly covered.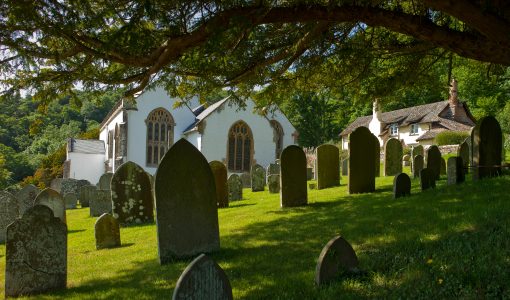 Selworthy Church needs you
In order to keep Selworthy Church running, we need your donations to support it.